I received recently advance copies of three books that look pretty darn interesting.
I intend to get to these books and review them here—as soon as I free up some time, which is to say, as soon as the Yankees win the World Series, or, should they lose, as soon as I am released from the hospital. In the meantime, here are the books with the publishers' description:
Jesus: A Theography
, by Leonard Sweet and Frank Viola (Thomas Nelson).
Jesus says, "The Scriptures point to me!" (John 5:39 NLT). But what does that mean exactly?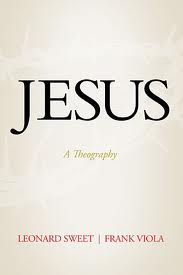 The twenty-seven books of the New Testament are largely a commentary on the Old Testament, and each part of the Bible is a signpost to Jesus. Once this is properly understood, everything changes, including our own identities. In this magisterial work you will discover a Jesus who is larger, more glorious, and more challenging than most of us have ever imagined.
Biographies of Jesus generally have been written by those trying to investigate the historical Jesus with little attention given to the grand narrative of Scripture. On the flip side, those interested in tracing the theology of Scripture are typically disinterested in historical Jesus studies. These two approaches have yet to converge…until now.
A Year of Biblical Womanhood: How a Liberated Woman Found Herself Sitting on Her Roof, Covering Her Head, and Calling Her Husband "Master"
, by Rachel Held Evans (Thomas Nelson).
What is "biblical womanhood" . . . really?
Strong-willed and independent, Rachel Held Evans couldn't sew a button on a blouse before she
embarked on a radical life experiment—a year of biblical womanhood. Intrigued by the traditionalist resurgence that led many of her friends to abandon their careers to assume traditional gender roles in the home, Evans decides to try it for herself, vowing to take all of the Bible's instructions for women as literally as possible for a year.
Pursuing a different virtue each month, Evans learns the hard way that her quest for biblical womanhood requires more than a "gentle and quiet spirit" (1 Peter 3:4). It means growing out her hair, making her own clothes, covering her head, obeying her husband, rising before dawn, abstaining from gossip, remaining silent in church, and even camping out in the front yard during her period.
See what happens when a thoroughly modern woman starts referring to her husband as "master" and "praises him at the city gate" with a homemade sign. Learn the insights she receives from an ongoing correspondence with an Orthodox Jewish woman, and find out what she discovers from her exchanges with a polygamist wife.  Join her as she wrestles with difficult passages of scripture that portray misogyny and violence against women.
With just the right mixture of humor and insight, compassion and incredulity, A Year of Biblical Womanhood is an exercise in scriptural exploration and spiritual contemplation. What does God truly expect of women, and is there really a prescription for biblical womanhood? Come along with Evans as she looks for answers in the rich heritage of biblical heroines, models of grace, and all-around women of valor.
Seven Glorious Days: A Scientist Retells the Genesis Creation Story, by Karl Giberson
 (Paraclete).
"A deeply inspiring overview of the grand epic of cosmic, biological, and cultural evolution written for Christians and
grounded in scientific revelation. Bravo!" ~ Michael Dowd, author of Thank God for Evolution
What would the biblical creation story look like if it was written today? Is it possible to view modern scientific explanations as "creation stories"? Using biblical imagery and vivid metaphors, popular author and leading science-and-religion scholar Karl Giberson recasts the Genesis creation story within the framework of the latest ideas from modern science. Seven Glorious Days takes the reader on a grand ride through the history of the universe from the Big Bang, to the origin of stars and planets, to the appearance of living creatures bearing the image of God. The narrative is accessible, lively and faith-affirming. Readers worried about the tension between science and religion will welcome their harmonious convergence in this timely and provocative book.